Destination Highways – At a Glance Descriptions
(Reproduced with permission from Twisted Edge Publishing Inc)

DH-11 Oroville – Curlew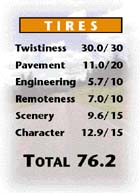 You deserve a break today. So get up and get away to this remote road in north-central Washington. This region's landmarks are limited to the skeletal remains of once-booming towns like Chesaw and Molson and the grave of Ranald McDonald. With little around but canyons and hollers, sagebrush-strewn plains and curve-enchanted forests, you don't have to travel very far east of Oroville to see the traffic dwindle. But the secret to this DH's success is not just its Remoteness, or that its striking Scenery is as varied as the Pavement quality. It's that each segment of this patchwork of roads adds its own great taste. Did somebody say DH11?
DH-12 Sullivan Lake Road
Now, tonight…we have a really big shew. One of my favorite Destination Highways, DH12, is with us. (Applause). Its excellent Pavement is going to take you over some well-distributed, if somewhat blind, curves, through the fields and forests of Sullivan Creek. As always, appearing with '12 is Sullivan Lake itself, nestled in its base of glaciated mountains, looking more beautiful than ever as the highway runs all the way along its scenic western shoreline. It'll be a short but great performance before our guest brings you back to the Pend Oreille River on the less frequent, more mellow corners of its southern half. Remember to tune in next week, when the top half of Elvis will be here. But before that, for all you kids out there on your Kawasaki ZX-6R's, the Rolling Stones will sing their No.1 hit: "Let's Spend Some Time On DH12 Together."
DH-13 Republic – Kettle Falls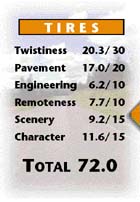 Need to pick up a few things? Groceries, hardware, and even a "selection of Indian crafts from all across America" are all available at the strip-mallish south end of Republic that finishes this piece of Hwy 20. But before you start wishing you'd brought your SUV, try filling your cart at the superstore of Twistiness, Pavement, Engineering and Scenery either side of the dramatic Sherman Pass. Despite the everything-must-go foliage clearance that occurred during the huge 1988 White Mountain Fire, the bleak landscape near the summit is actually a welcome contrast to the heavy forest that covers the rest of the road. And though there aren't as quite as many curves in stock on the eastern third as the western two-thirds, you'll still arrive at Kettle Falls a satisfied customer. We guarantee it.
DH-14 Colville – Tiger (Ione)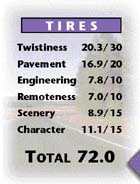 Location, location, location! You don't see a DH like this come on the market very often. Located on the prestigious Hwy 20, the eastern two-thirds of this wilderness gem winds through the Colville National Forest and Little Pend Oreille National Wildlife Refuge. Pavement and Engineering are of contemporary design, with added touches like newer asphalt, setback trees, and a wide, double molding of paved and grass shoulder beside much of the road. You'll have to overlook the mess coming in the door, where Lego homes are cluttered about the flight of straight, grassy steppes rising out of Colville. But Feng Shui is excellent on the DH's remote upper levels, as evenly spaced curves pass through wall-to-wall pine in the Little Pend Oreille River valley. Tight, cozy switchbacks coming down the pass to Tiger contribute further to the Character. Come see if this is the highway you've been looking for. No appointment necessary.
DH-23 Bridge Creek Road/Hwy 21 Jct – Inchelium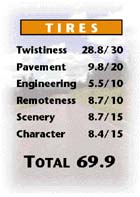 Opponents of Washington State's helmet law like to flout it when they can. You'll sometimes see these freedom fighters, wind in their hair, riding the remote roads of the Colville Indian Reservation. After all, speed tax collectors are about as rare as new Pavement around here. Bumpy asphalt can be an issue on this DH, particularly on the long chain of S-curves that climb from the Bridge Creek valley up the west side of the steep terrain linking Oregon City Ridge to the heavily treed Gold Mountain Ridge. The macadam that esses down the east side and heads straight across the flat into Inchelium, however, meets DOT/Snell standards. As does the entire road's Engineering and deep forest Scenery. As for Remoteness — we not only saw a guy riding bareheaded, he was riding barefoot. Whatever. Let those who ride decide.
DH-24 Little Falls (Hwy 231 Jct) – Fruitland (Hwy 25 Jct)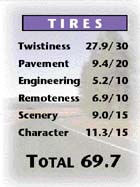 You've got to hand it to those Spokane Indians. In 1881, the white man tried to force them onto the Colville Reservation, but the Spokane dug in their heels, refusing to sever ancestral ties to their traditional lands. Their strong Character is reflected in the collection of roads across this undeveloped territory. Scenery has probably benefited, too — pine forest still covers most of the roadside even though the underlying terrain varies from flat and grassy to rolling and rocky. There are even some panoramic views when you drop down to and along the upper west bank of the Spokane River. Pavement, of course, has never been part of the band's rich tradition, but the Engineering is modern enough. You can tell that Twistiness and Remoteness are still highly valued by the Spokane; in painstakingly preserving them throughout almost the entire road, these first Americans are an inspiration. It's WSDOT that's the white man's burden.
DH-26 Nespelem – Cache Creek Road/Hwy 21 Jct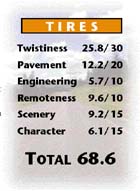 There was a little DH,
Who had lots of curly Pavement,
Right from its foot to its head.
When it was good, it was very good, indeed
But when it was bad, it was horrid.
Granted, Henry David Longfellow wasn't writing about the Pavement on this DH when he penned this famous poem about his daughter. But he could have been. When it comes to asphalt, this remote link between the dusty Indian town of Nespelem and a middle-of-nowhere junction with Hwy 21 is as temperamental as Hank's baby girl. The twisty, partly treed ascent out of the Nespelem River valley onto a dry, treeless plateau is coated in a recent layer of good quality blacktop. Whereas the climb through the pine forest to the top of the Sanpoil River's western ridge is a horrid trail of potholes. But you'll forget the road's little macadam tantrum when you come over the final crest. For here, interstate-grade surfacing and Engineering grace the tight, rock-a-bye descent down through the thick forest to the end. Motorcyclists love poetry. As long as it's in motion.
Warning: If you're the ride-for-beer type, this isn't the DH for you. No pub. No restaurant, beach or state park either. Not even a campground. But if you're prepared to give up a few roadside comforts and a little Pavement quality for a remote, traffic-free turn and burn, head south on this gravel-outer. Apart from the occasional hayfield and old house, there's absolutely, positively nothing here. Just pine forests, Columbia River outlooks and a very well-Engineered strip of faded asphalt. This trip back in time on the Colville Indian Reservation is so out of the way, chances are you may not encounter a single car, let alone one with those annoying red and blue lights on top. So fill up the Guzzi and get ready to guzzle some sweepers.
This DH is a tempting little cookie, and that's not just because the towns on either end sound like they were named by Mr Christie. Beginning in Tonasket, you cruise up the west bank of the Okanogon River through a hydrogenated mix of fruit farms and bungalows. The quality of the DH's ingredients improve, however, as you veer westward through the dark and milk chocolate-colored hills, savoring the creamy engineering along Spectacle Lake. The center filling of Palmer Lake, squeezed between the baked mountains north of Loomis, is especially delicious, since you lick your way around more than half the circumference of its mouth-watering edge. And how do you resist those buttery, meltin'-your-tires esses through the Similkameen River canyon between Nighthawk and Oroville? Just a caution for allergy sufferers: May contain speed tax nuts.
DH-35 Hwy 261/260 Jct – Starbuck (Hwy 261/12 Jct)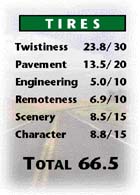 You won't be finding a trendy espresso bar at 118º07'30" x 46º30'05". But if you're desperate for a fix, the old railroad town of Starbuck, nestled in the heart of wheat and hay country, does have a café. Or try percolating down from the north, sipping the curvy and decurvinated sections, honey grasses and chunks of mocha-colored basalt on the descent to the Snake River, then crossing it and smoothing out along the Tuncannon. The strongest curves are on the climb out of the Washtucna Coulee at the north end, in the middle just above Lyons Ferry SP beach and in the bold riverside finish. Pavement is coarsely ground, but consistently even. And while blind, sometimes decreasing-radius corners can add a hint of bitterness to the Engineering, extra taste is added by sprinkles of fine Scenery. Whether you're hankering for a non-fat, half-caf double latte or simply satisfied with an honest cup of joe, this DH offers a medium-bodied, well-balanced TIRES blend that should appeal to everyone. Would you like that to go, Ishmael?
Howdy, stranger. Is that a gun in yer leathers or yew just happy to see this DH? Stands to reason yew would be. Unlike many of them wild west Palouse DHs, this road's high quality Pavemint and Engineerin' is well suited to city folk. And hereabouts east o' Waller Waller, yew don't get too many wagon trains o' pylons pluggin' up the trail. No sirree, Bob. It's wide open right outta Dayton as you saunter to and fro over and 'round endless rollin' hills o' golden grain. The path becomes Hwy 127 at Dodge, windin' north as a wide-open sweepin' path o' Twistiness that can't be beat in this man's Palouse. The first Hwy 12 bit is a lonely piece of road, fer sure. But the DH gits even more Remote as it heads outta the Pataha Valley. T'ain't many folks about as ya head up into grazin' land, mosey on down to the Snake River Canyon, climb back up from the Snake through the parched coulees of Alkali Flat and straighten through them grainfields south a ol' Dusty. So adjust yer chaps, mount up and give 'er the spurs, pardner. Ya wanna be outta town afore sundown.
DH-45 Hunters – Springdale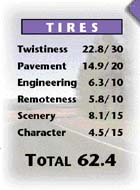 "Caution: Horse Drawn Vehicles" reads the sign in the Camas Valley, just as another points you off the road to an "In House Bakery". Yet another offers "Quilts, Rugs and Leather Goods". Whether or not you have any interest in Amish krispy kremes or leathers without worldly zippers or snaps, this road offers plenty of other wares to pique your curiosity. Sporting well-distributed Twistiness, good Pavement and Engineering, and the pastoral Remoteness that comes from being a connector between two tiny towns, this DH goes up one creek bed and down another as it passes over the southern edge of the Huckleberry Mountains. While the best section is undoubtedly the tightly wound forested climb to the summit from the western side, you're rarely far from one of the many easy curves, even when the road spans farmland at either end. As this ride offers a little of everything a motorcyclist desires, perhaps the pylons should get a further warning: "Caution: Two-wheeled, Horse-Powered Vehicles".
DH-48 Clarkston – Pataha (Pomeroy)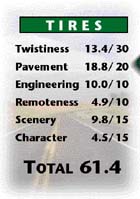 Faster than a Hayabusa! More powerful than a Harley V-Rod! Able to leap tall gearing in a single shift. It's… Superbike! Yes, the perfect Engineering on this piece of Hwy 12 can make any rider feel like a hero. The fine, wide Pavement soars easily along the lava-walled Snake River. The 50-mph (80-kmh) power sweepers that fly up the dry, rocky slopes to the Alpowa Summit are double-laned all the way. And the turns on the single-lane descent into Pataha are so meek, you don't need nerves of steel to swoop down them at speed. But before you go flexing your right wrist, just remember there can be kryptonite hidden behind this road's steep basalt walls — STCs with X, Y and K-band vision have ways of changing you back into a mild-mannered Clark Kent. So hurry up and get your costume on. After all, this DH looks like a job for Superbiker!
It's rare when the goddess Fortuna combines good Pavement and Engineering with a level of Remoteness usually reserved for gravel roads. And rarer still when the curves are there to make it all matter. The only civilization on this lonely byway is the handful of tiny farms and ranches within the first few miles of Curlew. Past that, the West Deer Creek valley narrows. So except for a brief plateau, there's no flat land for aspiring homesteaders to try their luck before you're well within the protected boundaries of the Colville National Forest, which covers the eastern two thirds of the road. This DH not only gets more remote as you head east, it gets twistier, with most of the curves coming on the descent off the Deer Creek Summit. As to the possible presence of Bambi & Company? Well, they don't call it "Deer Creek" for nothing. Hope your good fortune holds.
While Pend Oreille Valley residents take pride in living in one of Washington's least populated, most remote counties, its local two-wheeled citizens are particularly smug. And why not? Though this road doesn't really excel in any category except Remoteness (and then only north of Metalline Falls), it's adequately TIREd and suitable for any style of biking. The southern half follows the Pend Oreille River through small, early 20th century towns, now slumbering through the post-industrial era with a certain unmanufactured charm. The northern section climbs and twists up from the river to run through increasingly dense and uninhabited forest all the way to Canada. If this county sounds like your kind of country, ride this lightly populated DH and share the pride.
DH-60 Pataha (Pomeroy) – Pullman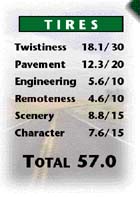 Controversy swirls around the existence of the Lower Granite Dam and its other three companions in the Snake River Canyon. That tends to happen when you block wild salmon from much of their previous range and severely impact remaining runs. But there's not much dispute over this agreeable run that swims through the wheat fields north of Hwy 12, darts down Casey Creek's ravine, breaches the Snake and heads upstream via more creek gorges to the rolling farmland of the southern Palouse. The canyon itself is as inhospitable to curves as it is to our finned friends. But outside of it, most people would agree that Twistiness is better than average, with peg-scaling corners in Stine Gultch and consistent, moderate turns most everywhere else. They'd reach a consensus on Pavement too — good when you're on the Hwy 194 section; okay tertiary road stuff when you're not. How can you get everyone to see eye-to-eye? Easy. Take 'em all out on this ride.
DH-62 Tonasket – Republic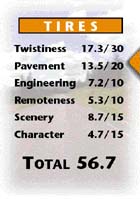 Bonaparte Creek. Bonaparte Lake. Little Bonaparte Mtn. Although Napoleon left his mark at many places around here, we're disappointed he couldn't prevent this DH suffering the bitter wages of WSDOT's war on curves. While the Pavement's probably slightly better than what the Little Emperor found, we expect this section of highway was a lot twistier when he first led his armies here. True, this section of Hwy 20 begins its march westward with an orderly formation of curves, winding steadily up the hillside out of Tonasket. But once you breach the ridge and storm the Bonaparte Creek valley, curve-combatting engineers outflank your left-right-left maneuvers. Wave after wave of straightaways launch their beleaguering attacks as you roll through the Bonaparte Creek, Toroda, and West Granite Creek valleys. The spirit of the revolution still lives, however, in the skirmish of esses just beyond the TE-A turnoff, the sweeping assault on the Wauconda Summit and the victorious, final descent into Republic. Vive le DH!
DH-63 Kettle Falls – Northport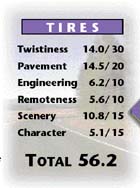 The well-beaten path along the Columbia River north of Kettle Falls has served as a passage between Washington and British Columbia for centuries. Early travelers journeyed by foot and horseback, later by paddle-wheeler, eventually by rail, and more recently, by sport-tourer. But this newest technology presented a clear need for a well-paved and engineered bed of pavement so that the growing numbers of motorcyclists would be able to ride smoothly along the Columbia River's terraces. Thus, DH63 was born. Although curves were considered an integral part of the success of this project, shoddy construction has resulted in some treacherously straight sections in the middle. But you'll still find excellent twisties in the limited, but stellar sections at either end. Whether you take this route to connect with some of BC's 85 Destination Highways, or plan to loop back to Hwy 20 via one of its fine TE's, touch your tires to this DH. And beat a path to your rims.
In 1811, David Thompson, renowned British explorer and fur trader, became the first person of pallor to visit Kettle Falls. In exchange for some tea and a few Union Jack flags, the natives took time out from fishing the falls to build him a large cedar canoe so he could map the Columbia River southwards. Modern exploration is better done by motorcycle, of course, and thanks in part to Dave's trailblazing, you can explore this relaxed route, steeped in moderate Kettle River valley Scenery, north all the way to Canada. Twistiness and Character are a bit tepid, but the other TIRES components should be hot enough to stir your pot. Particularly the strongly brewed Pavement and Engineering that let you boil along on the southern half and are only a tad weaker in the north. But don't get burnt by swindlers. Whether it's the Kettle's Barstow-based speed tax collector, or some ancient bugger in coarse leathers trying to trade tea, flags and a beat-up canoe for an Indian Scout.
DH-68 Rockford – Pullman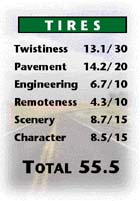 Al: Welcome to another edition of Monday Night Motorcycling. Here's our chance to get a close look at number 68, Rockford Pullman, the exciting new prospect out of Washington State. He's had an impact in the Palouse Conference despite TIRES stats that aren't really that impressive. Dan?
Dan: That's right, Al. This player's Twistiness isn't flashy but you can count on him to make some pretty good moves in the second and third quarters. He's not the smoothest runner, but his Pavement's got that consistency and predictability scouts love. And with his kind of Engineering, you won't be getting blindsided on many plays. His well-rounded Character's bound to win him legions of fans, too.
Dennis: And Dano, while some question this guy's Remoteness, no worries here either. Though this road's got more buildings than Pike Street, most of the towns on it are boarded up and gone the way of the dodo just like the rest of Smallville, USA. I guess that's what happens when people flip local businesses the bird and think nothing of driving an hour or two to load up their SUV's at the latest Wal-Depots 'R Us.
Al: We have a beautiful setting for tonight's game: rolling Scenery of emerald and gold farmland backed up by the odd waterway and butte. Here comes Rocky now, getting ready to take the fields. And we're underway!
Every Destination Highway will have ten miles of fame – Andy Warhol
DH69 is a brilliant, but often misunder- stood piece of work. The long, straight line of asphalt drawn at its western end invites heavy criticism as it fails to curve for 15.0 mi (24.0 km) through the windswept desolation of the French Valley. Many don't appreciate that from an abstract perspective, this long straight of banality east of Omak is cleverly designed to anaesthetize the rider and give greater effect to the fluid, 10.0 mi (16.0 km) canvas of artistically paved and engineered curves that brush up and down off the low Coyote Creek summit on a silk screened background of tall, thick trees. Meanwhile, the unattractively embellished few miles west of Nespelem is the DH's subtle way of summing up the spirit of our society and times. For eccentric, avant-garde motorcycle roads such as this, it is not the number or intensity, but the manner in which curves are presented that gives them their meaning. But is it art? Not everyone agrees. Just look what happened to Warhol. In 1968, he was shot by a member of SCUM (Society for Cutting Up Men). Let's just hope WSDOT (Washington State Destroyers Of Twistiness) isn't quite so radical.
DH-70 Hwy 21/Bridge Creek Road Jct – Republic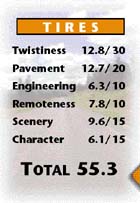 I am a good DH. Motorcyclists should like me. I know they think my curves are too long and gentle and I don't have enough of them. I know they think this, especially when they're riding me at the southern end. I know they also think my Pavement looks better than it feels. But if they would only relax into cruise mode and stop trying to drag their knees for half a minute, they'd understand my nature is more scenic and remote than curvy. Look at the peaceful Sanpoil River. I try my best to stay close to it and keep it in view for much of the ride. And everybody talks about the glaciated cliffs of the river's gorge that tower above me. At least when there's not a large tract of grassland getting in the way and making me straight. And I have barely any development at all until near Republic. Yes. I am a great DH. Motorcyclists will like me.
Click your heels, Dorothy, and you're in Kansas. Or at least Washington's version of it. Roads get pretty straight as you get close to Washington's donut hole. Even so, DH71 not only delivers a respectable number of curves, but manages an above the cut TIRES showing. This Remote route north of Hwy 12 initially follows the course of the Touchet River, weaving gently but determinedly through hayfields, back and forth across the river. It then moves away from the river and beelines across Eureka Flat, interrupting the straightaway to do a little jog east down Hwy 124. The straightaway resumes north of Eureka until the landscape undulates, creating sweeper-filled hollows and gullies. The overwhelming dryness of the terrain — more intense the further north you go — is strangely alluring. But the best Scenery comes on the descent into the Snake River Coulee and on the straight stretch north through Devils Canyon where deep brown basalt cliffs are set off dramatically against a background of straw-colored rye grass. How do you find all this? It's easy, Dot. Just follow the gray paved road.
On the surface this shy, quiet farmland access road in the south of the Pende Oreille valley has rather plain features. But taken together, they're somehow attractive. Its skin isn't flawless but it is healthy. Its curves are neither chiseled nor bodacious yet are tempting none-theless. While its Scenery won't get it in the centerfold of Motorcycle Tour & Cruiser, those vistas in the boundary zone between farmland and hills kind of grow on you. And because of its modest Character, there isn't lots of traffic competing for its off-the-beaten-path charms. Which means lascivious speed tax collectors are absent, attracted to the easier pickups on nearby Hwys 2, 20, and 211. After you get to know it, the pastoral, country charm of this DH might just leave you smitten – or at least considering a second date. Beauty, it seems, is more than skin deep.