WeSTOC 1 – Park City, Utah – 1996
The 2015 WeSTOC Disorganization Team would like to invite you to  Spokane Valley, Washington for the twentieth anniversary of WeSTOC August 24 – 27, 2015! This year's event will be held at the beautiful Mirabeau Park Hotel.

From its humble beginnings in Park City, Utah in 1996, WeSTOC (the annual Western gathering of Honda ST Owners Club), has grown to be one of the premier Honda ST Owners Club events year after year. Twenty rallies later and we're still going strong!
While originally a Honda ST event we welcome all riders who have a passion for sport touring. WeSTOC is all about building friendships with other riders who share this common passion. Check out the 'Players' page to see who is currently signed up to attend and what their current bike of choice is.
Your rally fee includes two hotel-catered meals: dinner at the Monday riders' meeting and the buffet at Thursday's WeSTOC 20 banquet. Also included is a commemorative 20th Anniversary WeSTOC 20 neck wallet/badge holder. Quantities of the neck wallets are limited, so register early!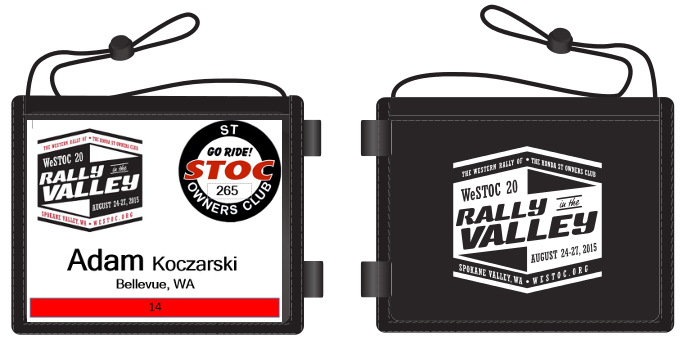 There are two steps to complete the registration process. First, click on the 'Register Now!' link above to register for the rally. Second, click on the 'Mirabeau Park Hotel' link for information on how to book your room. Both the rally fee and the hotel reservation can be  cancelled. (Cancellation terms are listed on each page.)
We hope to see you in Spokane Valley Washington at WeSTOC 20 in August, 2015!